About Us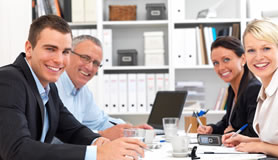 When partnering with us, clients experience a sense of optimism, common sense, and connection to higher purpose. They learn to develop an organizational culture where diversity is embraced, opinions are valued, and the best of all ideas are used to win. A successful engagement is defined as seeing an individual or team become strategically focused, deliberately collaborative, and passionate with their delivery. Then, they choose to learn and grow from their experiences in a way that is aligned with their values.



Our Skills
Competitive Strategy
Developing a pragmatic competitive strategy starts with a clear sense of mission, purpose, and strategic imperatives to serve as an anchor. Once agreed upon, leaders are in position to develop a winning strategy through analysis of internal capabilities, competitors, and industry trends. Whether an entrepreneur with an innovative idea or a mature business looking to create new value, clients generate customized insights for how to minimize business risk, increase revenues, and maximize long-term profitability. For non-profits, we use similar techniques for maximizing an organization's ability to be a force for good.

Project Management & Operational Excellence
In order to implement effective strategy, internal business operations must be carefully designed to deliver repeatable, reliable value to customers. At ABS, we utilize Lean / Six Sigma techniques to strengthen a business's key value chain while maintaining an eye for reducing or eliminating all other non-value generating activities. Also, we provided Project Management Professional (PMP) certification training to grow a company's internal capabilities for managing complex projects and help employees earn this coveted credential.


Business Change Management
Managing change ineffectively can lead to business disruptions that can derail projects or negatively impact an organization's culture. ABS provides expertise for how to manage change through organizational redesign methodologies and an integrated system of agreed principles, strategies, tactics, and analytics that assist leaders in achieving desired results.

Leadership Development & Organizational Effectiveness
With increasing levels of uncertainty in the business environment, new technical and adaptive skills are required. Business leaders must be able to quickly sense change and inspire their organizations to boldly adapt. ABS provides a full range of training and executive coaching experiences intended to help strengthen these skills in leaders and organizations. Our facilitators possess decades of corporate experience blended with timeless leadership insights taught by the United States Military Academy at West Point.
Our Leadership Team
Founder / Team Leader

Patrick Curran, MBA
West Point

Leadership Programs

Jeanmarie Alessi, MS
Fordham University

Bio

Organizational Effectiveness

David Knapp, MBA
West Point

Executive Coaching

Ashley Miles, EdD
Columbia University

Bio

Project Management Training


Wayne Brown, MS
W. New England
University
Bio

Organizational Effectiveness

Doug Trainor, BS
West Point